I'm positively MAD about CeCe Cadwell's chalk/clay paint.
Hellllooooo, Turquoise!
I've been using Annie Sloan Chalk Paint for a few months and it has been a falling in and falling out of love process for me. I'm currently on the outs with it, I'm sick to death of the colors (and I still have a ton of it left, so I will continue using it). And the wax is STINKY, ick!
Enter CeCe Cadwell. I saw the most brilliant shade of turquoise at Ruffles & Rust Vintage Fair this past May. It was being used a lot in Lingering Legacy's Booth and it totally caught my eye. As luck would have it, there was a CeCe Cadwell booth there and I grabbed a sample of the Santa Fe Turquoise.
Let me tell you, YUM! I fell back in love with turquoise... again! And this is a good thing.
The AS provence and duck egg I had been using were just kinda blah and muted.
But the Santa Fe is bright and really pops!
The clear wax is totally odorless and nontoxic. So is the paint itself for that matter. And I'm thrilled to death.
Other comparisons:
CeCe sands just as easily as ASCP. CeCe is also almost as messy when it sands.

CeCe goes on like butter whereas sometimes the ASCP drags a little, especially on second coats.

The CeCe wax doesn't quite buff to the same sheen as AS, but for me that's fine.

The AS clear wax seems to create a smoother finish as well.

CeCe has slightly more texture in the paint so brush strokes might be more evident if you apply it thickly/don't sand.

They both give the same coverage (two coats minimum, sorry folks... I haven't ever been able to paint anything with just one coat of paint), and they both suffer bleed-through if the original piece of furniture has an oily finish.

They cost roughly the same. The CeCe wax is slightly more expensive at 28 dollars versus AS 25.
Want to see some photos?!
I really love layering mirrors.
Can you tell I still love turquoise and aqua?
See my mail pile back there? Heh.
Just so you know, I'm in my PJs and it was harder than you'd think trying to avoid being caught in the mirror while snapping this photo.
This framed mirror with the crystal knobs will be in the shop this week.
Yes, I leave tags on stuff still. Because I'm classy like that.
Side table in CeCe Santa Fe. The middle green square is actually Martha Stewart Chalkboard Paint. I painted this with the kiddos in mind. This will also be in the shop this week.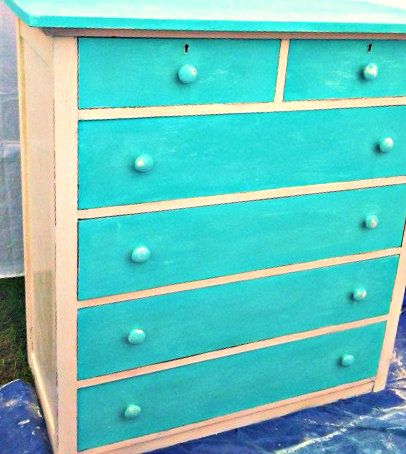 I swore I'd lay off the two-toned dressers. Whoops. Couldn't help myself.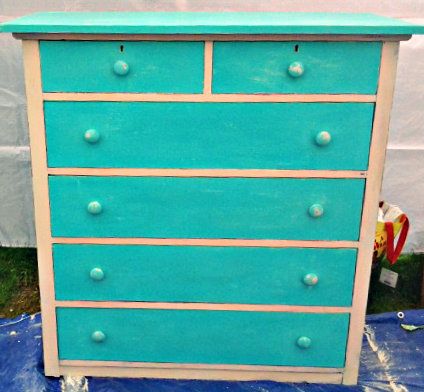 Dresser is made from Dull Ash. Not sure how old it is. Vintage for sure.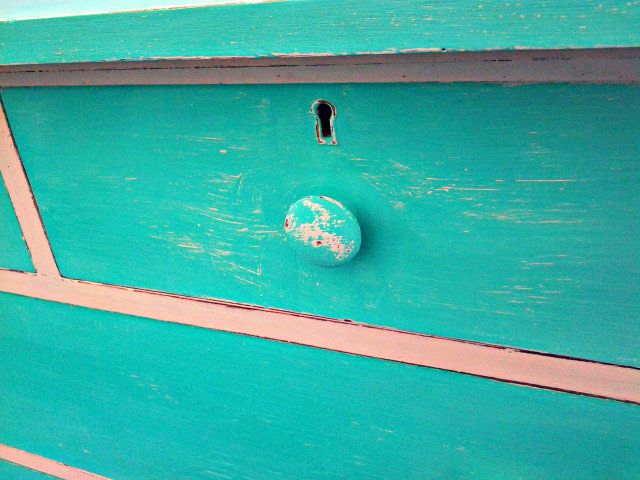 Close up. I also said I wasn't going to distress this piece. Well, you can see how that turned out.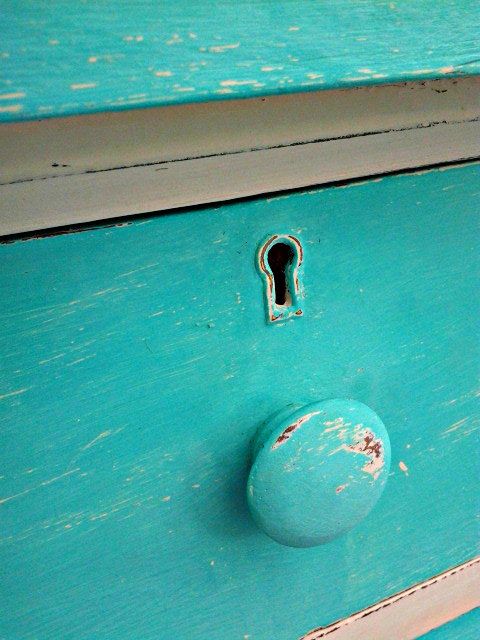 Closer, close-up. This dresser is going into the shop this week.
Linking Up: